Centrally located on the north shore of Lake Gaston's main lake, Roanoke Reserve has been meticulously carved out of multi-generation land that was purchased in 1917 – more than 40 years prior to the formation of the lake. Approximately 40 acres of beautifully wooded terrain, natural splendor, and 4000 feet of shoreline create a beautiful main lake enclave that offers the best of all worlds: breathtaking views, main lake proximity, serenity, and buffered water protected from main lake traffic.
Reserve Difference and Value
The Reserve is uniquely designed with an approach that honors its legacy and preserves the natural beauty and magical ambience. The result is an extraordinarily beautiful place and lake life experience to spend quality time with family and friends, relax, have fun, and make beautiful memories. Special features:
One-of-a-kind: The Reserve location, waterfront environment, overarching vision and design are unmatched on Lake Gaston
Safe swimming and water play for all ages and stages
Rare deep water within the Reserve's buffered shores - even for the most private settings further from the main lake - resulting from the surrounding elevated topography
Natural beauty and peaceful ambience with as much privacy as you like
Unwavering commitment to the vision and integrity of the Reserve offers inherent protection for your investment and quality of life
It is truly a dream setting for those seeking a homesite, location, and surrounds that will greatly enhance your lake living experience as well as investment - now and for years to come.
The Reserve difference is the compelling reason and underlying value proposition to be part of this one-of-a-kind waterfront community. Pricing for the Reserve offerings is competitive with the upper range of conventional upscale waterfront lots around the lake. However the Reserve value is second to none. When you experience the Reserve firsthand, the difference becomes clear.
Our Buyers
When you spend time on the Reserve and connect with its vision and possibilites, you fall in love. You feel a warm embrace and remarkable ability to relax and enjoy the important things in life in the best possible place. You simply cannot imagine the setting for your custom home and where you want to spend special time with family and friends anywhere else. You know this is where you want to put down roots for your family and be part of the Reserve's legacy. You are home.
LOT 5 FOR SALE AS OF 9/1/2020
Availability is subject to change without notice.
Final – yet extraordinary – opportunity to put down roots on the Reserve and be part of this Lake Gaston legacy while creating your own! This acreage and gorgeous property will accommodate 2 homes as shown! Family compound extraordinaire!
Call us at 855-279-4700 to chat. If you prefer to work with a Realtor who we consider the best on the lake and is most familiar with this property, please reach out to Crystal Dickens, Listing Agent with Pointe Realty Group. You can reach Crystal at 252-326-4194 or CrystalDickens@gmail.com. She can also show you other properties on the lake.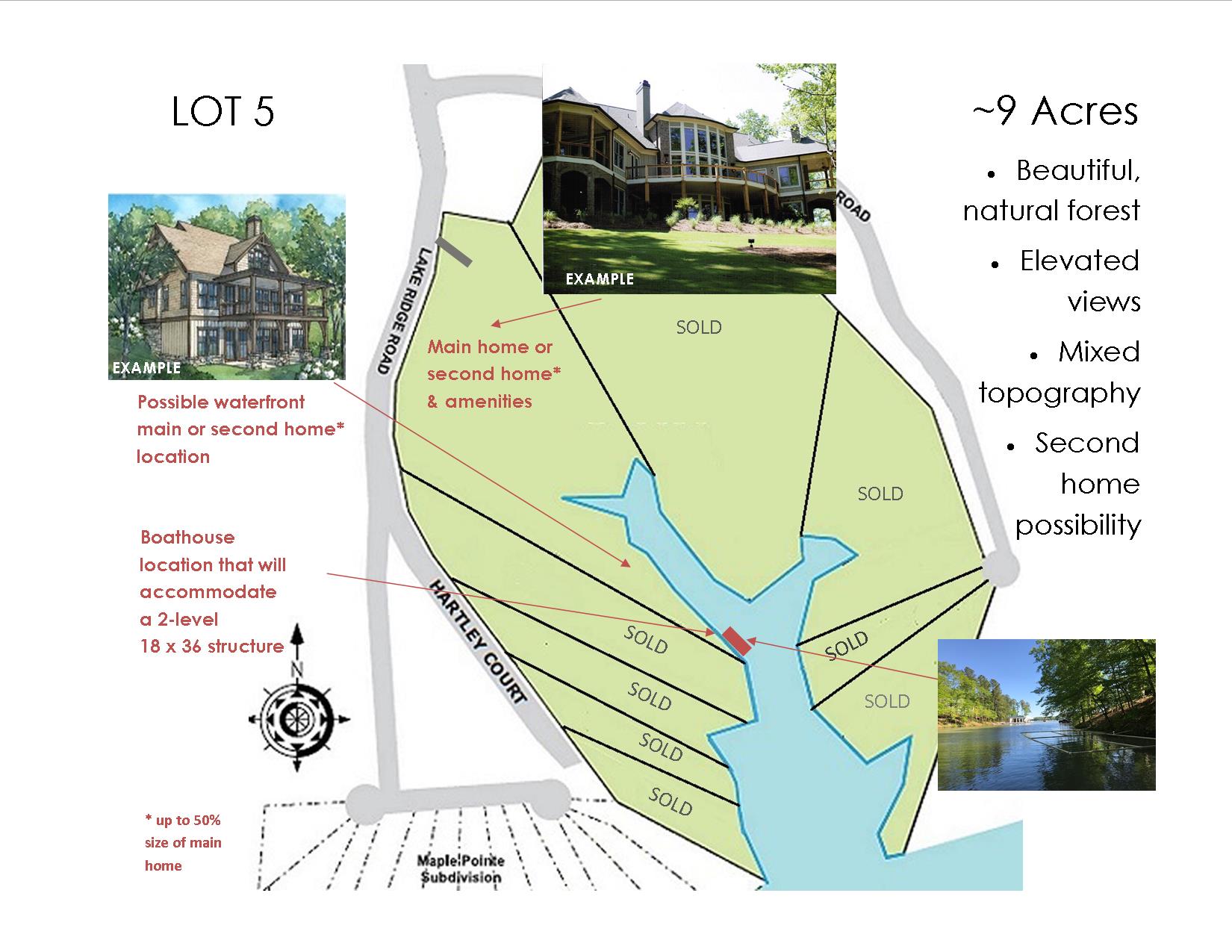 Click images for more detail
Click here for concept site plan with both homes and boat house.
For creative minds looking for a canvas with lots of space and extreme privacy in a natural setting -- with easy access to deep water and boathouse in the pristine Reserve cove. This property offers a variety of beautiful home settings with 2-home possibility! Abounded with fantastic views and interesting possibilities. Lots of room for amenities to create your one-of-a-kind private custom estate. Peaceful - almost magical - ambience. Space for 18 x 36 boathouse.

A Taste of Reserve custom homes and boathouses
all perfectly integrated into their
Reserve settings. Built by featured builder Corbitt Hills.

Lot 1. Click

here

to tour the finished home.

Lot 4. Click

here

for a Houzz tour.

Lot 9. Click

here

to tour the finished home.

Custom Home Specialist and Preferred Builder

We have selected Corbitt Hills Construction (Sid Cutts) who is Lake Gaston's recognized leader for exquisite custom homes and optimal integration with the land and setting to be part of our team. Corbitt Hills also has the distinction of being approached by Southern Living to join their exclusive Southern Living Custom Builder Program and has been a member for several years. The Reserve has become a Corbitt Hills community including Sid's permanent residence.

Others builder/designers are welcomed. However, we encourage you to reach out to Sid at 1.252.586.4220 for his specialized expertize and connection with the Reserve vision.

And if you are interested in a completely original home design...

We are happy to recommend designer Michael Booth of Booth Studio in Raleigh, NC who designed Roanoke Reserve's "first family's" home. He has a very special talent for tuning into the vision of his clients and transforming imagination into something real and wonderful.

If you would like to contact Michael, his email address is boothstudioraleigh@gmail.com

We love the work of Architect, Tina Govan, and Sarah Suzanka's Not So Big movement. Incredible talent and vision. Tina and Sarah collaborated on this amazing lake home design on Lake James that was selected as Outdoor Living Winner.

Both have spent time on the Reserve visualizing its possibilities and fell in love!